The decorations are up, presents bought, and all I need are a few stocking stuffers. Things seem remarkably quiet for this time of year.

Number one son and his s.o. have asked for my help in cooking their first roast turkey. They're providing the turkey at her family's gathering on Christmas eve. Then they will come to our house on Christmas day for another turkey dinner. In the past, I've tried to suggest a change in menu (duck, anyone?), but no one will hear of it. I'm looking forward to the day when I don't have to do the turkey and just need to show up and eat!

Number two son is currently in New York City with his girlfriend, visiting some of her relatives. They're trying to cram in as many art galleries, museums, tourist must-sees and shopping as they possibly can. He called last night to say they're having a wonderful time. They'd just gotten back from the musical, Wicked and he loved it. He was a bit skeptical going into Wicked (he wanted to see Spamalot) but said he was pleasantly surprised.

They'll be coming back on December 23, just in time for Christmas. Actually, their plane is scheduled to arrive early a.m. on Christmas eve, so it's cutting things a bit too close for my comfort. We're just hoping the weather will hold and they don't get stuck in a storm back east. Luckily, they have a direct flight from NYC to Vancouver, so as long as they get out of JFK, they should be fine.

Here they are when they left on the 16th: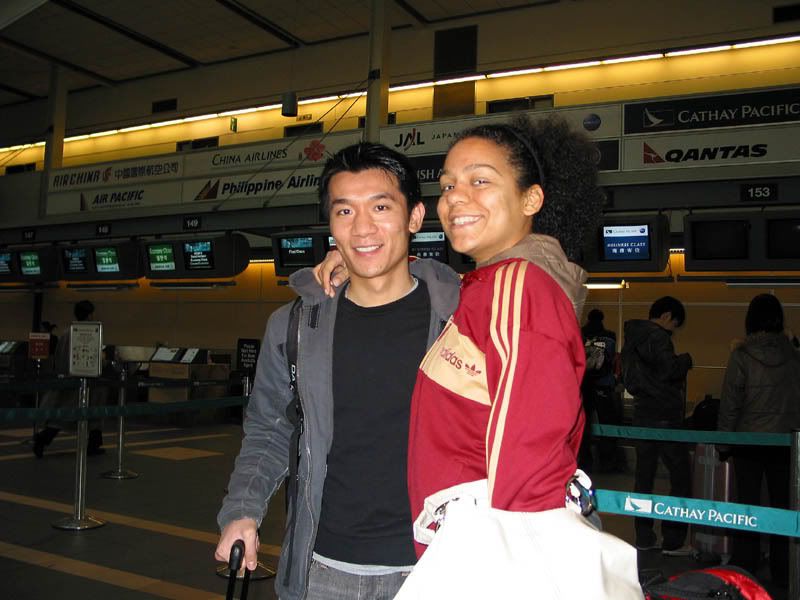 Hopefully, the smiles will be just as big when they get back.

Meanwhile, I've been left in charge of the care and feeding of his two goldfish. Not an onerous task, I know, but I've been admonished not to overfeed them. Their names are Hans and Jurgen (named after German philosopher-sociologists, don't ask) with rather unique personalities - at least for fish. Hans has a swim bladder problem which occasionally causes him to swim and bob around lopsided until he's fed some peas, of all things. I check them first thing every morning in fear I'll find one floating belly-up and I'll need to blame a non-existent cat for his demise. So far, so good.

Today, I need to finalize my Christmas dinner menu and shop for ingredients. I don't want to be stuck in the crush of Christmas eve shoppers. I can't quite decide between my own Kahlua mousse or a store-bought mango mousse cake for dessert; and between a sweet potato casserole with walnuts or yams and pineapple (for some reason, another one of my family must-haves is a sweet potato or yam dish).

Anyways, here I go for one last foray into the crowds.